Project Name
Addison, Wayne
Categories
1st Battalion,Brave Rifle Troops
Vietnam 1st Battalion
Wayne Addison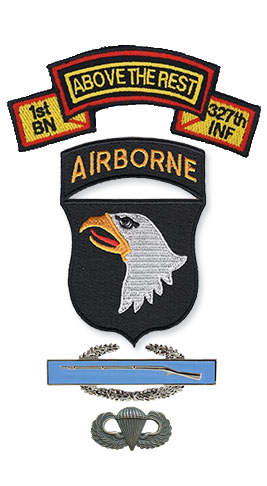 Addison, Wayne T. Drafted 03-12-68 Los Angeles Ca. Ft Ord, Basic and A.I.T. Went on to Ft.Bening Ga. for N.C.O. school 11B and then to Airborne school. Sent back to Ft. Ord before leaving for Nam 31-12-69.
Assigned to the best outfit in the Army, 101st Airborne. Early January of '70 went to field 1/327th, B co. 3rd platoon. Before leaving Nam advanced to platoon Sgt. and rank of E6.
May '70 not a good month as is every May 17-19 of each year since. Late June Red Cross had me brought back to Camp Eagle for a MARS call from family in States. My mother had been hit by a car in a cross walk and might not make it, so my Nam tour was cut short and I was sent home. She made it by the way and lived a long life leaving us in late 2004.
Discharged in Sept '70 for College, never finished, could not sit in classrooms, funny I never realized that until just a year ago. I was changed by the experience of Nam as we all were, just started accepting that a year ago too. I miss you guys out there, we will meet again and soar like Eagles.
"Choper"