Project Name
Zuver, James
Categories
2nd Battalion,E Company
Vietnam 2nd battalion
James Zuver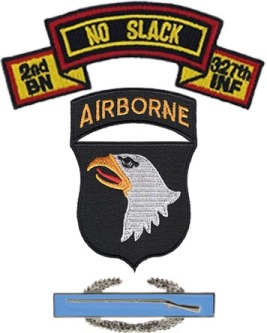 I got to Vietnam in March of 1970 and was at T-hawk in the FDC for 2/327 E-CO, mortars as a Spec 4. I was down at Phu Loc District when the sappers hit T-hawk in June of '70. I remember the KIA was from an illum canister. I also remember the Kit Carson scout killed one of the sappers the next morning while he was being questioned. I believe that they found three alive and about 30 dead with an estimated force of about 70. The NVA fired two or three 120 rockets at us at Phu Loc and the Chaplain had his ear drums popped. I believe he went back to the States.
Me at a bridge position along Highway 1 between T-hawk and Lang Co bridge. There were five of us GI's and one Vietnamese at our two mortar tub position. Sometimes the Vietnamese fellow and I would catch the first bus to Lang Co in the morning and get fresh lobster for breakfast. One time we got there late and they were out of lobster so he said "No sweat…we get lobster". SOOOOO, we stopped at a lady's house and he went in and come out with two partially cooked lobsters. We also had the Donut Dollies for breakfast one day and cooked eggs.
When I got back to T-hawk and had transferred to HHC and was working the TOC radios I suggested to the 1st Sergeant that we could put up illum all along the AO from Phu Bai to Lang Co so they could fly night Medivacs. They tried it as long as we could get our injured to the highway.
I remember how beautiful the Country was and always thought that the Massif, the mountain that went out to the Gulf due east of T-hawk, would make a great resort area. WELL, Chu has sent me some links to Vietnam and Lang Co has become a resort town and has a new bridge that crosses to the south and instead of going through the pass to get to Da Nang, there is a tunnel.
I could talk about Vietnam for hours, but got to get back to the house work.
Have a great life,
Jim