Project Name
Whisnant, Robert G.
Categories
2nd Battalion,A Company
Vietnam 2nd battalion
Robert G. Whisnant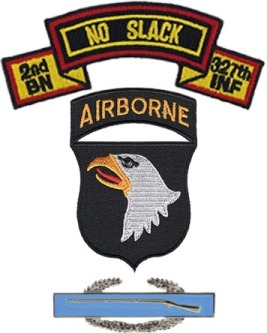 I was a draftee Sept 1970. Basic and AIT at Ft. Jackson, SC. Home of the well known "Tank Hill". From there I went home for a 15 day leave and then to Vietnam. Flew into Ben Hoa AFB and trucked to 90th placement and then orders for 101. Camp Evans for Pee training at SERTS. Went to A Co 2nd platoon. I do have a CIB which I earned the first day within the first hour with my platoon at a HOT LZ. Sniper nests and spider tunnel. No one got hurt just really scared. Welcome to Vietnam. The picture I've attached is Lt. Richardson, me laughing and Smitty also laughing because the Lt had stabbed himself on the sharp end of some cut bamboo. We were in thick jungle.