Project Name
Van Lone, James
Categories
1st Battalion,Cobra Troops
Vietnam 1st Battalion
James Van Lone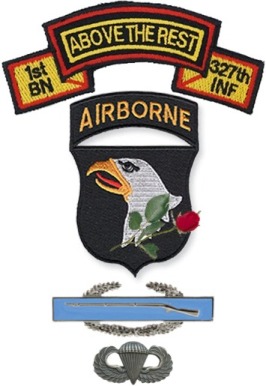 Enlisted 10/63 (Airborne unassigned), Basic at Ft. Jackson SC, AIT at Dix NJ, Jump School at Benning. Assigned to C/1/327 3/64. Thankfully got my cherry jump out of way on first night.
A little later went on DELAWAR in Iran and then Desert Strike in the Mohave.
Later that year ('64), I transferred to HHC 1st Bde to be an OJT Crewchief on H-13's in the new Brigade Aviation Section. I was about to go to about 16 weeks of gravy duty at Ft Rucker in June of '65 when I got into a car accident on leave. Got back too late for school and the Brigade was full up to TOE strength for upcoming trip East. Col. Timothy found a job for me as an Equipment Report Clerk (never found out what that was) so I was able to stay with the Bde.
Got reassigned to C Co from An Khe and got extended 'til 7/66. No regrets, best thing I ever did. God bless all you great guys.
See you at next reunion. Above the Rest, No Slack, Honor and Country!
Jim
Wife: Joanne View Gathering In Kenosha 2004
Children: Beth, Bill
Occupation: Retired