Project Name
Reno, William S.
Categories
2nd Battalion,B Company
Vietnam 2nd battalion
William S. Reno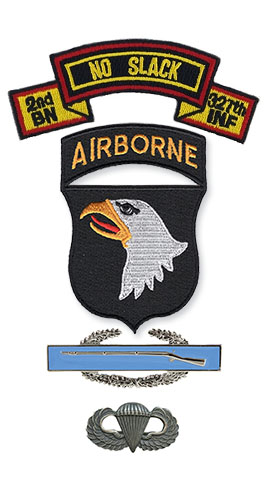 Joined Feb. '66. Basic at Ft. Bliss, Tx. Infantry training at Ft. Gordon, Ga. Jump school at Benning. Went to Ft. Campbell with the 506th. Went to Nam in June '67 with Co B 2/327. As I was clearing rear-area in June '68, got malaria and left 'in country' after 367 days. (left one day late and it was a Leap year.) Eventually sent to Ft Polk, La. I thought, Oh No Tigerland. But was at Reception Station for last 5 months.
Bill Reno. Everyone thought that 'Reno' was my nickname until I started getting mail. When I became a sqd leader I took the radio name 'Huckleberry Hound', don't ask me why, except we had a 'Top Cat' there, already.