Project Name
Cummings, Joe L.
Categories
2nd Battalion,B Company
Vietnam 2nd battalion
Joe L. Cummings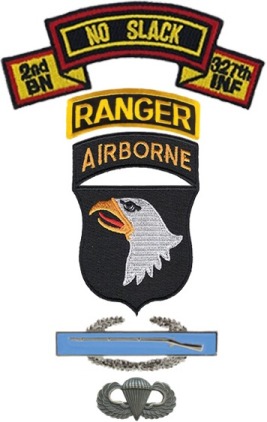 Went to Fort Polk for Basic Training and AIT in July, 1969. From there, Fort Benning's NCOC and Paratroop School. Again, back to Fort Polk as a sergeant and then to Oakland April 28, 1970 (18th birthday) for processing to Vietnam. Served with the B-1/506th through July of '70. Joined B-2/327 and remained there till July of '71. Returned to Polk once again as a Drill Sergeant. This lasted till 1978 when the 1/6th Infantry in Germany called. Stayed with them until December of 1981 when Fort Benning needed another Drill Sergeant. In December 1984, promoted to First Sergeant retiring in 1989.
Originally from Gibsland, Louisiana but now living in Minden, Louisiana and hoping to reconnect wtih some of the men [Curtis (Buddy) Davidson, Jack Crane, LT Hipwell, Ruso, SGT Joe Roy Hooper, LTC Delveccio, LTC Gerda, Sidney M. Berry, BG David Doyle, David Droddy] I served with.