Project Name
Coffield, Thomas "Tom" F.
Categories
1st Battalion,ABU Troops
Vietnam 1st Battalion
Thomas ``Tom`` F. Coffield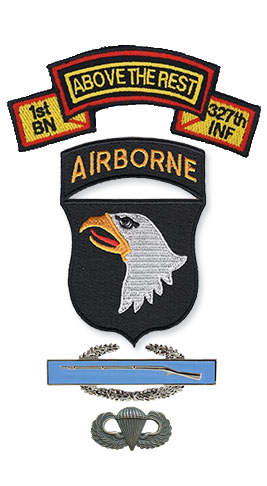 My name is Tommy Coffield and I joined the Army in October 1965. Basic Training was at Fort Benning, Sand Hill, A Company. AIT was at Fort Dix, NJ with snow covering the ground for 6 of the 8 weeks training. Returned to Fort Benning for Jump School and waited an extra week to have underwear dyed green and shots.
I joined the 3rd Platoon, A (ABU) Company, 1/327 "Above the Rest" the afternoon before we uncovered the POW camp. Got sick and returned to Phan Rang missing Cheo Reo. I rejoined the platoon at Dak To in time to participate in the bloody days of June and lucky enough to walk out with the few that made it.
I received a gunshot wound to my right upper arm in October near Tuy Hoa with Art Timmons and Doc Wheeler. Evacuated to 249th Army General Hospital in Japan for over a month; returning to Tuy Hoa in time for airlift to Kontum. Don't forget, the 101st did make a jump in Vietnam while there. Also, John Steinbeck joined us for Christmas Dinner.
There was Phan Thiet and Phan Rang before leaving unit at Buon Ma Thuot. Extended service 6 months to keep an older Brother (married with 3 children) out. After 30 days in the States I returned to Vietnam at Bien Hoa to join the Raiders Platoon, 334th Armored Helicopter Company as door gunner on Charlie model Gunship. After flying for 1.5 years I returned to the States (this is another story).
I married Sharon while home on last special leave returning to Vietnam to participate in TET '68. After my last tour, I returned going to Fort Bragg, NC joining the 82nd Airborne for a few months. I left the Army to work for Plough, Inc., Memphis, TN. for 5 years before joining South Central Bell (now BellSouth). I've been in the telecommunications business for 30 years.
We have 2 children (Tonya and Zachary). The biggest surprise is I'm backpacking sections of the Appalachian Trail Georgia to Maine and have completed 1400 miles of the total 2150. You would think I'd backpacked enough for several life times.