Project Name
Baygents, James "Jamie"
Categories
1st Battalion,ABU Troops
Vietnam 1st Battalion
James ``Jamie`` Baygents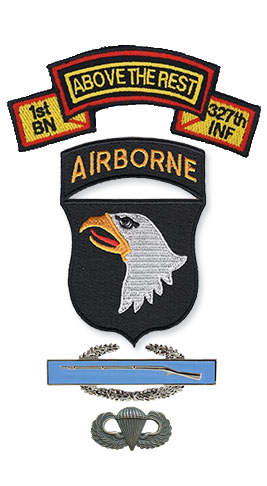 James "Jamie" Baygents. Born in Laurel, MS, lived in Waynesboro, MS until the age of 4. Moved to Venice, LA and lived there until "Uncle" called me at 19.
Basic training May 68 Ft. Bliss, TX. AIT Ft. Ord, Ca. Went to A Co, 1/327 out of Eagle, on October in 68.
20 years 2 days active, 4 years reserve. Retired CW4, Marine Engineer.
Married to Nancy from Virginia, daughter Denise born in 75, step-son Dennie born in 71 & grand-daughter Abby born in 2001.
This picture was taken at the old French compound I think on the Troui River? Looks like the same place described as Phu Loc in pictures already posted. May have been Phu Loc, just a rifleman doing what I was told ya know.
Jamie Baygents, 241 Turner St., Waynesboro, MS 39367